1.2.2. Main menu
The Menu displayed on the left side of the DeepLog Portal Web Interface allows the user to browse through all the pages of the portal. The Menu is divided into three sections, that correspond to the three different levels inside DeepLog Portal: domains, devices and users.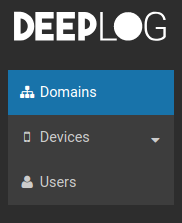 Domains
Clicking on Domains the user has the possibility to display all domains, where he's enabled. For the Admin User the whole list of available domains associated to the Customer will be displayed. The Admin users can also modify or cancel the available domains or create new ones. Selecting one domain from the list, all devices included in that domain will be displayed.
Devices
The section Devices on the Menu allows to display the List of devices, registered in the Portal. The Admin users can access all registered Deeplog devices, and also the page Registered Devices, in order to see the whole list (independently from their specific domain).
Users
The Users section of the Menu ( available only for user type Admin) provides the access to the list of enabled users. The Admin users have the possibility of adding, canceling or modifying users of the types User and Monitoring. Further possible Admin users will be included in the list, but it's permitted only the visualize their name and email address, without having the possibility of modifying them.