UPS500 manual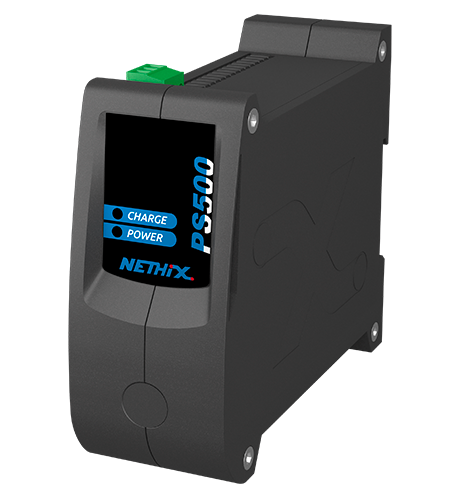 ---
1. Overview
UPS500 is a switch mode power supply with backup battery pack, designed and developed for use on all Nethix's remote monitoring and control devices.
UPS500 has been developed as a complementary product for the WE500, but it can also be used for other devices. Besides its main switch mode power supply functionality, UPS500 can detect the status of the network and of the internal battery pack.
Through the two available outputs, UPS500 can:
Detect network or battery power outages and send a signal to WE500 that, in turn, informs one or more selected users
Power-off WE500 safely, to avoid uncontrolled switch-offs.
Suitable to be DIN-BAR mounted (according to EN60715), UPS500 provides an electronic thermal protection and it's secured against short circuits.
It includes 2 LEDs for signaling the presence of output tension and the battery-charge status.
Hint
UPS500 can be used for powering devices other than the WE500
---
2. Technical characteristics
| Characteristic | Description |
| --- | --- |
| Input voltage range (nominal) | 195-265 Vac / 50 Hz |
| Output voltage (nominal) | 17 VDC |
| Output current (nominal) | 0.6 A |
| Power | 24 W |
| Efficiency | 0.8 |
| Output regulation | +/-4% |
| Frequency | 100 KHz |
| Isolation | 3000 Vac |
| Batteries | Set of 10 NiMh 2200 Mah |
| Network presence signaling | Photo isolated output |
| Battery low tension signaling | Photo isolated output |
| Cooling system | By natural convection |
| Protection | Electronic (short-circuit, overload and thermal) |
| Enclosure | DIN-BAR mountable dark gray plastic |
| Operational temperature | -10°C / +50°C |
| Storage temperature | -25°C / +85°C |
| Humidity | 90% non condensing |
| Dimensions | (w x h x l) 45 x 120 x 100 mm |
| Weight | 515 gr |
| CE standards | EN60715, EN60950, EN50081-1, EN5081-2, EN5022, EN55024 |
2.1. Output features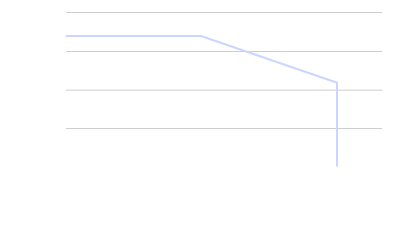 ---
3. Installation
First, connect the two digital inputs to the WE500: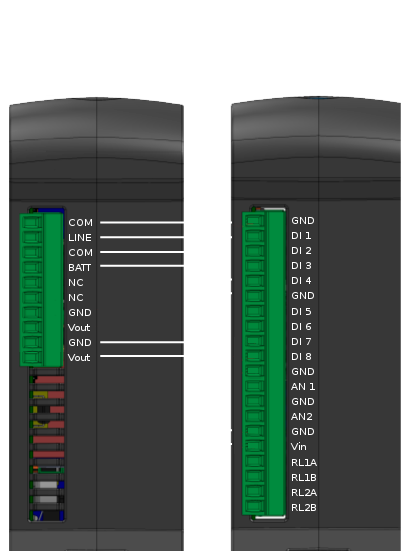 then power up UPS500:

Hint
Notice UPS500 uses two digital inputs of the WE500. Therefore the number of digital inputs are reduced to six.
---
4. Configuration
There is a plugin for the WE500 that, once installed, provides the required variables and events to handle UPS500.
The plugin creates automatically two variables:
UPS_Battery_status
UPS_Power_source
and one event
UPS_Low_battery
to which several actions can be associated such as sending an email or SMS. The actions of this event are user-defined as any other actions in the WE500. Other events and actions can also be associated to these variables.
---
5. Safety guidelines
This device is only suitable for being installed by a qualified operator
Nethix is not responsible for improper use and/or its side effects
Nethix products are designed for typical use in industrial automation and/or home applications.
If you plan to use Nethix products in special applications where anomalies and discontinuity of service can have serious effect on human life or can cause physical or material damages, or where extremely high levels of reliability are required (for example in aerospace systems, in atomic energy control systems or n electro-medical devices), please contact Nethix for support to your particular application. Nethix is not responsible of damages caused from its products if such applications are not previously authorized.

The product shall not be treated as household waste. It shall be instead handed over to an appropriate collection point for the recycling of electrical and electronic products. For further information about recycling of this product, contact the local city office and/or the local waste disposal service.
---
6. Warranty and support
Nethix warrants to the buyer that the product will be defect-free within two years (24 months) from the date of purchase.
During warranty time, and against presentation of purchase invoice, the product will be repaired or replaced, at Nethix's discretion, without any additional costs as regards spare parts and repair, if the damages are proven to be manufacturing defects.
Warranty will be voided if the product has not been used properly.
In case of technical problems the user can ask for support:
---
7. Return and repair
Product return to NETHIX must be previously authorized, requesting a RMA number.
Please send an Email at Nethix containing all following information:
Complete customer's name and address
Distributor's or Reseller's name and address
Date of purchase
Product P/N and S/N as displayed on the product or the package
Detailed description of fault and/or reason for return
Nethix will communicate the RMA number, in order to start the return procedure of the product. The delivery of the goods shall be arranged DDP at Nethix premises. Products returned without factory seals will be automatically treated as out-of-warranty repair services.