The WE120 can be configured and programmed sending commands and parameters using one of 4 available modes:
5.1.2. Genesys 3
The use of Genesys 3 grants a very easy set-up procedure for the device configuration. Genesys 3, available for free download form the following link, offers an intuitive and user-friendly interface and allows to configure all functions of the device and to upgrade the firmware in a very easy and fast way.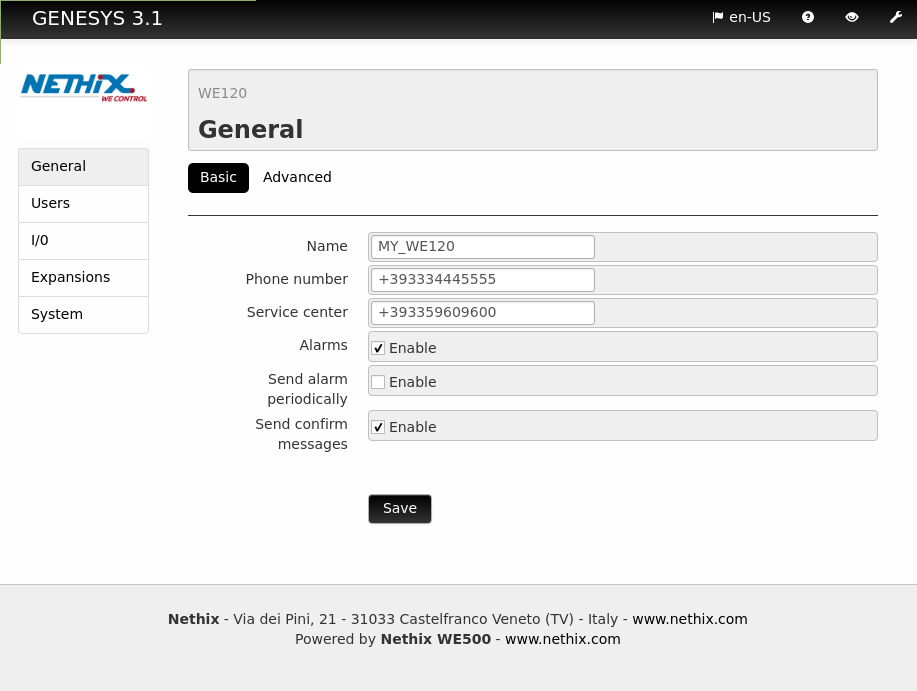 5.1.3. Configuration through SMS
The configuration string has to be edited as a standard SMS message. Maximum message length is 160 characters, spaces included. Commands and parameters must be separated by spaces.
The following example shows a typical configuration session and use of the WE120 through SMS, that allows to check the correct operating of the system.
For a more comprehensive description of the available commands and relevant syntax see the section 6. Command description.
The following text on gray background has to be edited as SMS on any mobile phone and sent to the SIM number designated for the WE120.
Clear the device's memory
Set the SMS Service Centre number (according to the designated Provider- the following example refers to Vodafone Italy)
CENTER 0000 +393492000200

Add new "administrator" user, authorized to receive unsolicited messages and alarms sent from the device
ADD 0000 +39493213213 Admin 3 1

The WE120 is now configured and ready for the use. Send the following commands from the administrator number to verify proper operation of the system.
Send the following message to close relay n.1. See the status leds changing.
Send the following message to open relay n.1. See the status leds changing
Read WE120 status. The device sends an SMS with all I/O status information.
Request the users list. The device replies sending an SMS including the requested information.