Hardware Manual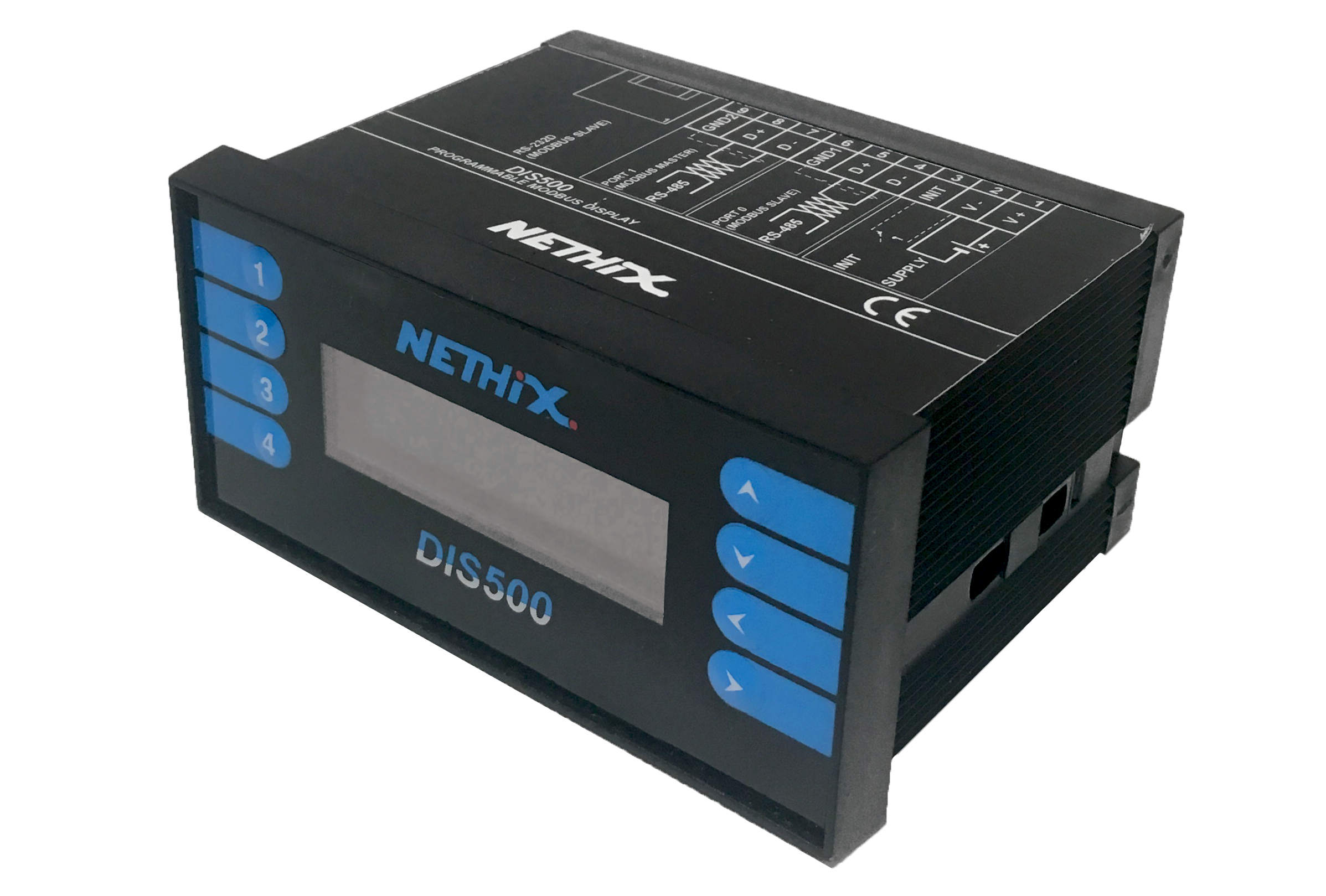 ---
1. Overview
DIS500 is a programmable display for control panels, suitable to communicate through Modbus RTU protocol on serial port RS232 and RS485. It can be used as a slave device for displaying the data managed by the WE300 and WE500. Having a Master port RS485 on board it can also interrogate slave devices (as for example the expansion modules XP500) and operate as a Modbus gateway. The configuration of the functions and registers of DIS500 can be performed through the Software DIS Configurator.
DIS500 is compatible with the whole range of Nethix products, nevertheless it can be used with any other device, supporting the standard Modbus protocol.
In this section all technical specifications of the device are described.
---
2. Technical features
The graphic display DIS500 has the following technical features:
| | |
| --- | --- |
| Description | Graphical display with master and slave Modbus RTU protocol |
| Power supply | 10 / 30 VDC |
| Average consumption | 45 mA @ 24 VDC |
| Protection reverse polarity | 60 VDC max |
| Insulation | 1500 VAC 50 Hz, 1 min. |
| Operating temperature | -20°C / +60°C |
| Storage temperature | -30°C / +80°C |
| Humidity | 0 / 90% (non condensing) |
| Dimensions | 96 x 48 x 74 mm |
| Weight | 128 gr |
| Enclosure | For panel mount, black self-extinguishing plastic |
| Connections | 2 x RS485 on terminal, 1 x RS232D on RJ-45 |
| Protocol | Standard RTU Modbus |
| Communication speed | Up to 38400 bps |
| Standard | EN 61000-6-2, EN 61000-6-4 |
| Display | 132x32 pixel, 13.2x48.1 mm |
---
3. Installation
The device DIS500 can be mounted on panel using the included assembly kit. It's recommended to install the display in a sheltered place repaired from vibrations, and to avoid the installation near power signal cables, that might generate disturbance.
3.2 Rear view and terminals
On the backside of the DIS500 are available all clamps for the power supply connection, for the serial ports and the RJ45 connector.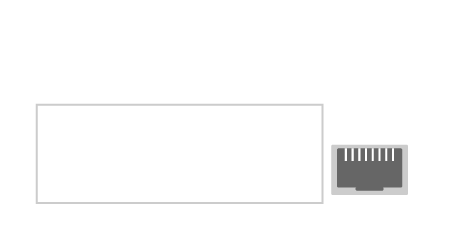 POWER SUPPLY
The power supply range supported by DIS500 is of 10/30VDC.
The power supply is led to clamps 1 and 2 as shown on the following picture: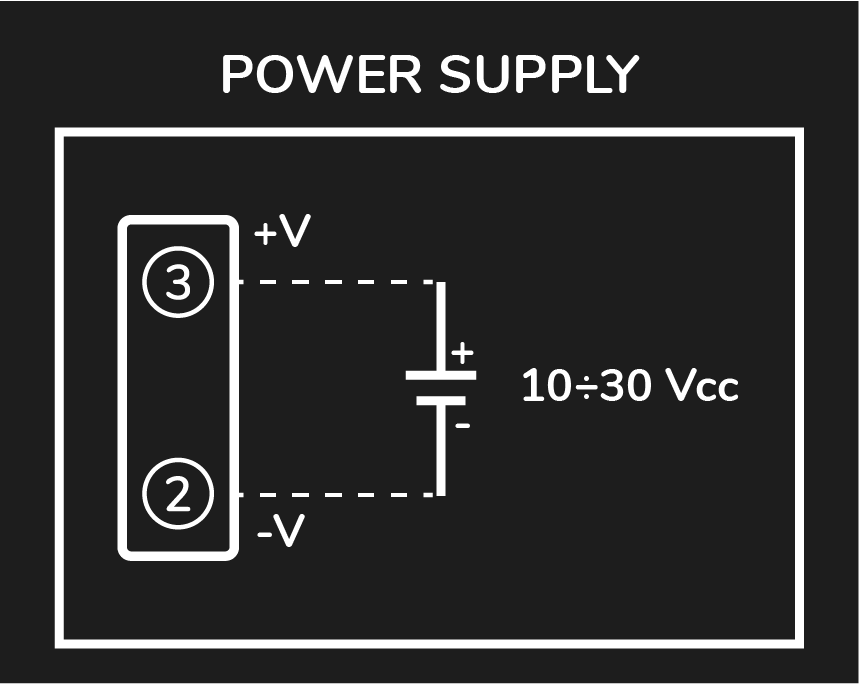 SERIAL PORTS CONNECTIONS
DIS500 has a Master RS485 Serial port, a Slave RS485 serial port and a Slave RS232D serial port:

---
4. INIT mode
At any time the DIS500 can be set in INIT mode, in order to have it back to a known condition and be able to communicate with it. For restoring the INIT mode, make the connection as shown on the picture below, having the device turned off.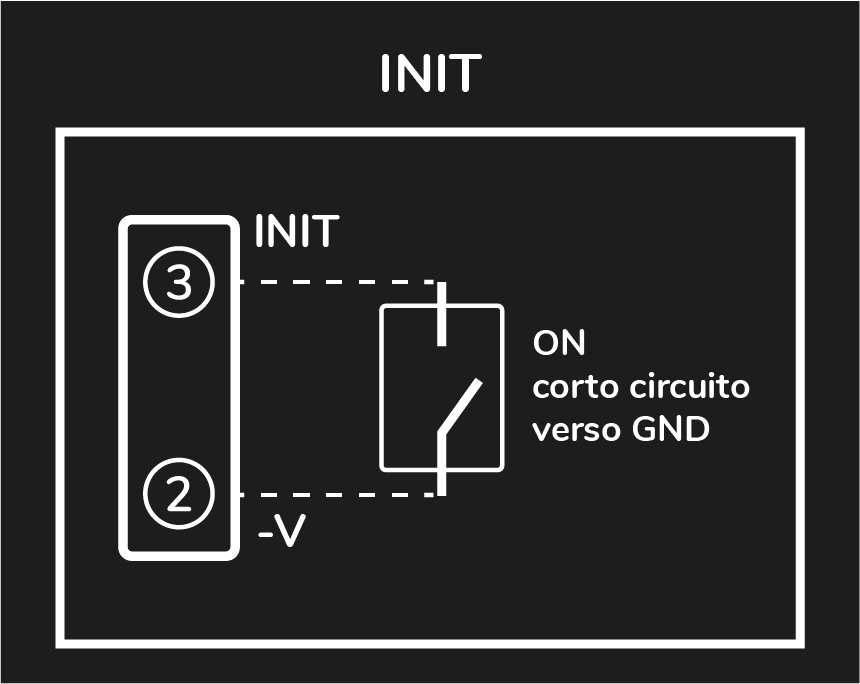 The communication parameters in INIT mode are:
Baudrate 9600
Slave address 10
Using the above mentioned parameters and the software DIS Configurator, set a speed value and a slave address. To make the modifications effective, just turn off the DIS500, remove the connection to the clamp INIT and reboot the device.
---
5. Safety guidelines
This device is only suitable for being installed by a qualified operator
Nethix is not responsible for improper use and/or its side effects
Nethix products are designed for typical use in industrial automation and/or home applications. If you plan to use Nethix products in special applications where anomalies and discontinuity of service can have serious effect on human life or can cause physical or material damages, or where extremely high levels of reliability are required (for example in aerospace systems, in atomic energy control systems or n electro-medical devices), please contact Nethix for support to your particular application. Nethix is not responsible of damages caused from its products if such applications are not previously authorized.

The product shall not be treated as household waste. It shall be instead handed over to an appropriate collection point for the recycling of electrical and electronic products. For further information about recycling of this product, contact the local city office and/or the local waste disposal service.
---
6. Warranty and support
Nethix warrants to the buyer that the product will be defect-free within two years (24 months) from the date of purchase.
During warranty time, and against presentation of purchase invoice, the product will be repaired or replaced, at Nethix's discretion, without any additional costs as regards spare parts and repair, if the damages are proven to be manufacturing defects.
Warranty will be voided if the product has not been used properly.
In case of technical problems the user can ask for support:
---
7. Return and repair
Product return to NETHIX must be previously authorized, requesting a RMA number.
Please send an Email at Nethix containing all following information:
Complete customer's name and address
Distributor's or Reseller's name and address
Date of purchase
Product P/N and S/N as displayed on the product or the package
Detailed description of fault and/or reason for return
Nethix will communicate the RMA number, in order to start the return procedure of the product.
The delivery of the goods shall be arranged DDP at Nethix premises.
Products returned without factory seals will be automatically treated as out-of-warranty repair services.